welded pipe
Welded steel tube also called welded pipe is produced by steel plates or strip after the curl molding and welding process. Welded pipe production is featured with simple technology, high production yield, more product varieties and less equipment investment. The product strength is lower than seamless steel pipe.
Due to different welding method, welded pipe can be classified into furnace pipe, electric welded (ERW) pipe and automatic arc welding pipe. With different welding form, there're longitudinal welded pipe and spiral welded pipe. Due to end's shape, there're circular welded pipe and others.
| | |
| --- | --- |
| | |
| Straight Seam Welded Pipe | Spiral Welded Steel Tube |
Production Process of Welded Pipe
Longitudinal production process is featured with simple production progress, high efficiency, low cost and fast development. Strength of spiral welded pipe is higher than longitudinal welded pipe, it could produce weld pipe with large diameters with narrow steel billets. Small and thin-walled welded pipe is produced by simply welding process. At last it's polishing and wire drawing. Welded pipe with small diameter uses longitudinal welding method, while large diameter pipes uses spiral welding method.
Flow Chart of Production Process
Uncoiling—processed by temper mill—end cut and welding—looper—molding—welding—welding bead removal—pre-distortion—induction heat treatment—sizing and straightening—eddy current test—cut—water pressure check—acid pickling—final inspection—packaging—shipping.
What We Sell
Related Topics
autumn sports meeting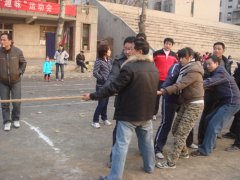 Our company always organizes funny games in late October every year. This not only enriches our spare life but also can make us obtain relaxation after work....
Read More >>